10 exercises for your core
10 exercises for your core.  So why am I writing about core exercises?  Well, last week I wrote about new life and that this can happen at any time, you could get born that way,  wake up and take action or seem like you are beyond all hope and then "rise from the ashes" and surprise everyone with the new you.  Part of becoming the new you and starting your new life will inevitably include you looking or at least feeling better about yourself.  When you look around for ways for you to  improve your life you mostly see diet books (you can check out my Pinterest account for loads of ideas), mindfulness colouring (check out my mindfulness post about this) and exercise videos.
I have got loads of exercise ideas on my Facebook and Pinterest accounts. So where should you start?  I have read that the best way to improve your body, if you want others to see the new you, is to focus on one key area.  You will see loads of books about arms, legs , bums and abs.  In this post I am going to tell you the top 10 recommended exercises for your core.  These are not in any specific order.
1.Planks
This is a simple one to start with.  Get in to the position above and hold it for at least 30 seconds.  If you find this easy just increase the time you hold it.  If you need to make it even harder you can incorporate press ups in to this routine.  Start in the press up position and hold that plank shape for 30 seconds then lower yourself to the position above and hold that for 30 seconds then push up to the full press up position and hold again.  I find moving between positions works better if you do it one arm at a time.  This movement then works in a similar way to side planks.
2.knee crunch
This great picture shows the standard and advanced ways to perform this exercise.  It can also be performed one leg at a time.  You could even start by lying one the ground then lift up your knees first then do a sit up  whilst tensing your abs.
3.leg raises
This is an exercise that can be done in different ways too.  It can be done one leg at a time and even whilst lying on your side and raising your legs towards the ceiling to work on your side muscles.
4.superman
Another simple one, just lie on your front then try and lift both your legs and arms off the ground and hold.  If this is too hard then you can just do half superman poses by just lifting arms or legs only until you get good enough for both.
5.swimmers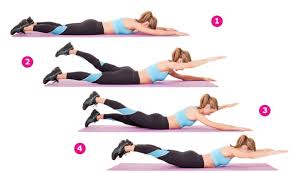 very similar to the superman pose but you work alternate arms and legs for as long as you can without touching the ground.
6 heel touch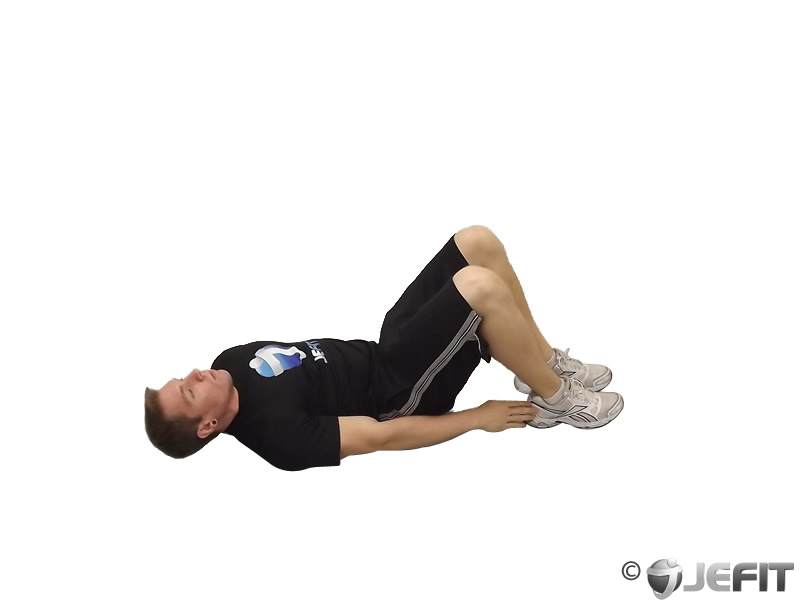 For this one all you have to do it lie on your back and bend your knees until your back is flat against the ground and your feet are flat on the floor.  Then reach and touch your heel and return to your original position, then repeat on both sides.
7.squat
As the picture shows this is a great exercise for more than just your abs, but it does work really well, especially if you tense your abs throughout.
8.bicycle
This is the advanced version, you could just start in the same initial position as the above exercise and raise both knees and, at a similar angle to the picture rotate your legs like you are riding a bike in the air.  I find that this is a good exercise to do at the end. I start in a basic crunch shape and then do the leg work whilst holding it.
9.flutter kicks
This one reminds me of the swimmers but facing up this time.  Just concentrate on the leg work with this one.  You can even try arms and legs to increase the difficulty, use opposite arms and legs to keep balance for this.
10.mountain climbers
This is a bit like running up large stairs whilst keeping your hands in the push up position, keep your abs tense to increase the workout.
I hope that these exercises help.  You will need to exercise for about 3 months, on average, before others start to notice a difference in you even though YOU will notice way before that.  In the meantime you will feel much better in yourself and ready to face the world in the other ways you wish to improve.
Good luck.